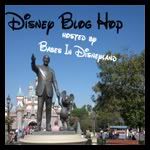 It's Blog Hop Thursday! And even better, it's a Star Tours Blog Hop Thursday!
If this is your first Hop, welcome! This week, I am co-hosting with Lisa from Babes In Disneyland!
This week we are writing posts about Star Tours: The Adventures Continue which has just opened in Walt Disney World and which will be opening at the Disneyland Resort on June 3rd.
On to the Blog Hop:
This Hop is for all Disney-related blogs, whether you blog about The Parks, animation, a specific character, etc. If you are a blogger who covers Disney, feel free to enter, but be sure to enter a URL that sends readers directly to your Disney-tagged posts.

Enter your blog in Linky below.

Check out the other blogs and follow them through Google Friend Connect, on Facebook, etc. Just let them know that you checked them out and like what they are doing. We all like to know we have new readers. I see you do it on other blogs, so make sure you let me know too!
Welcome new readers to your blog! Each week we do something a little different. You do NOT have to participate in the weekly theme to participate.

Also optional, please consider posting the Disney Blog Hop button on your blog or website so that we can spread the word. If would also be great if you wouldn't mind tweeting about the Blog Hop so that more blogs will participate.
In honor of our Star Tours theme this week, click here to read our spoiler-free, "meant to generate" excitement early review of Star Tours: The Adventures Continue which we were able to ride last week!
Thanks for hopping by!